YAMAHA R1 EWC
2017 Season's bike
ENGINE :
Capacity : 1000 cc
Weight : 170 kg
Power : 220 hp
Exhaust : AKRAPOVIC
Air Filters : MWR
Shifter : HM
Radiators : RADIA SOUDURE
Engine Covers : GB RACING
Lubricants : YAMALUBE
Special Parts : YEC / DANIELSON ENGINEERING
Preparation of the cylinder head : DANIELSON ENGINEERING

CHASSIS :

Tyres : DUNLOP
Wheels : MARVIC
Steering Dampers : M. TOBY
Brakes : BREMBO
Brake discs : FRANCE EQUIPEMENT
Fairing covers : MACMOTO
Secondary transmission : FRANCE EQUIPEMENT
Brake hoses : STÄUBLI
Valve and gas hoses : STÄUBLI
Hoses : GOODRIDGE
Composites : MACMOTO
Windscreens : ERMAX
Seats : FORTUNE
Suspensions : OHLINS
Brake cylinder head : BREMBO
Paint job : WAD'Z

SPECIAL PARTS :

DANIELSON ENGINEERING
GMT94
YAMAHA EUROPE CORPORATION
SONIMAT

DETAILED PRESENTATION

Rider-control buttons on the clutch side of the handlebar
We are using 5 buttons for traction control (red), le pit limiter (black at the top), engine map and engine brake (black at the botton).
Green button is for switching between engine maps.
Blue button selects the map chosen by the rider.
Rider-control buttons on the brake side of the handlebar
We kept the stock button cluster for ignition, stater and marker lights because it is convenient and reliable.
We also have a comodo for separately wired light circuits, mandatory in EWC, (one white head light and one non-blinking red rear light) and a switch for the quickshifter.

Quick-change wheels (rear and front)
These components are custom-made.

Rearsets
Suspensions
We use Öhlins suspensions. The steering damper is made by TOBY.
Quickshifter
Our HM system is used to shift up the gears without cutting gas. It is not used to downshift. It can work both ways, but our riders all ride in reverse gear (first gear up and the others down).
Exhaust system
We use an exhaust system made by Akrapovic.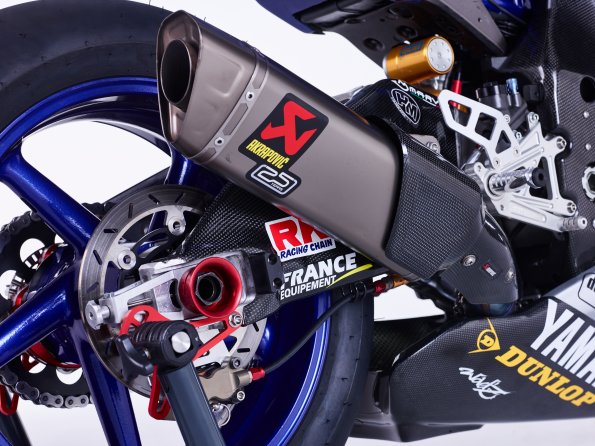 ECU connector from the kit
Screen
The screen is custom-made by Ermax.
Back fairing
The wide openings typical of the new Yamaha R1 were closed for reason of resistance to falls. The original light has been replaced by four LED lines.
Tank
We use a 24L tank with a protective cover on the plug.

Protections
We use frame protections, engine case covers (GB RACING) but we also add carbon fiber protective pieces (swing arm...) made by MAC MOTO.